The Official Story

Bill Carrothers has been a professional pianist for over 25 years. He has played many venues throughout the U. S. and Europe including the Village Gate, Knitting Factory, Birdland, Blues Alley, New Morning (Paris), the Audi Jazz Festival in Brussels, the
Nevers Jazz Festival (where he shared the bill with Abbey Lincoln), the Montreal Jazz Festival , Jazz Middelheim, and the
Marciac Festival in France. In October of 2000, Mr. Carrothers headlined the prestigious Rising Star Tour throughout Germany, Austria, and Switzerland. He has been a leader on seventeen recordings, all of which have received critical acclaim. His sideman credits have included some of the greatest names in jazz, including Joe Beck, Scot t Colley, Buddy DeFranco, Dave Douglas, Curtis Fuller, Eric Gravatt, Drew Gress, Tim Hagans, Billy Higgins, Ari Hoenig, Lee Konitz, James Moody, Gary Peacock, Dewey Redman, Charlie Rouse, James Spaulding, Bill Stewart, Ben Street, Ira Sullivan, Toots Thielemans, and Benny Wallace.

The Real Story
It is true I am a jazz piano player. I am also a complete wanna-be baseball player. I entertain rich fantasies in which I strike out the side in the ninth or hit a blast off the facing of the upper deck in right to win. Win what, you say. Why, the Series, of course. In my next life I'm going to be great.
There's a couple of things you should know. I enjoy a good scotch, a good joke, and a good fight (in about that order). I also enjoy altered reality. You see, I live in a world of make-believe where everything can be altered through the magic of music. All that is ugly within and without turns beautiful. Suffering becomes an asset. Only Art can do this. Only Art can take what would in any other circumstance be ugly, and transform it into something beautiful. Listen to Billie Holiday and you'll see what I mean. Anyway, as long as I play music, everything is fine. But when real life deals its disheartening and devastating blows and I am pried away from my magical world, I can become a reasonably violent and unpredictable man, unaccustomed and ill-equipped in dealing with the give and take of normal, decent society. I'm working on that problem and I predict a full incorporation into reality very soon.
I also like to snowmobile. Make that love to snowmobile. There are only a few more purely joyful experiences than skimming across a frozen field or twisting through the woods on a sled. 'Nuff said.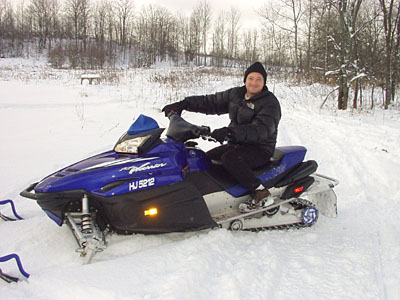 What else can I tell you? Nothing, except that if you've gotten this far down the page you're either crazy, or you have too much free time, or you're someone in my family trying to see if I said anything about them. OK, I will. My family is crazy. But that's ok. Yours probably is too.

Return to the Playhouse